OUR ENVIRONMENTAL THINKING
Environmental tanks
Environmental tanks
Environmental tanks and materials
We want to take long-term environmental responsibility with our buildings and businesses and we want to preserve the genuine ness of our property.
We are therefore working to find materials and solutions that are in line with building techniques and knowledge from the turn of the last century as well as with modern environmental requirements.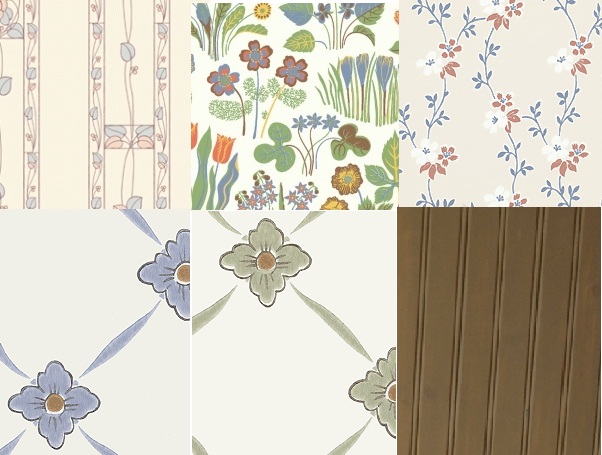 A clip of the house wallpaper – More info in the text
Property
The main building
We have kept and renovated the old tin roof. A concession to the new falters is that all new sheet metal is double folded.
The old eaves plate, which has been rusted, is replaced by new, like eaves plate.
All drainpipes are replaced by new, period pipes.
The house panel is overdressed with a new panel with the same profile as before.
All the windows, which were missing, are newly made by a local carpenter, after the old model. Where there were simple outer arches, we have supplemented with inner arches. Otherwise, we have chosen connected two/triple glazing.
All exterior material, except the ceiling, is painted with old-fashioned linseed oil paint.
Inside, we started to put up large efficient electric elements but realized that this might not be environmentally optimal. Therefore, we have removed all of these and instead installed geothermal heating. It is not time-typical, but the house has previously been equipped with water-borne central heating and with the rock heat we avoid a large part of the wood handling and the environmental impact of wood burning.
There are still two wood stoves and the kitchen's wood stove. On the one hand, it is a safety for power cuts and, on the other hand, it provides a not insignificant cozy factor.
Life
In a step to ensure our quality of life and the quality of our lives, we have had our drinking water analysed, even though it is municipal water. Rated top quality.
Our colours
Outdoor
Exterior walls house, garage o carport Yellow ocher
Knot boards, windboards, etc. White Titanium Zinc
The floor of the veranda Searly Grey
Basement Foundation Grey
Iron oxide No. 1A-4d
Window English red No. 1A-48 A
Painting rules;
Outdoor
1) Mix 35% colour, 50% raw linseed oil and 15% balsamturpentine. Dry three to four days
2) Paint with undiluted paint. On sawn surfaces, you can dilute with 10-20% balsamturpentine
3) Final paint with undiluted paint – possibly 5-10% boiled linseed oil for better flare
Our colours
Indoor
Window, door lining, etc. most common White cream tone
Panel guest part Custom made based on wallpaper color
Panel office Grey
Painting rules;
Indoor
1) Dilute with 15% balsamturpentine, dry for at least three days and sand paper lightly if necessary
2) Paint with undiluted paint – dry at least 3 days
3) Paint with undiluted paint once more
Our wallpapers
The picture above is a clip of the wallpaper we have used.
Top left Borås wallpaper B 12921 is available in our Bro-room
At the top of the middle Boråstapeter B 12926 is in the guest corridor
Top left Boråstapeter B 19924 in the laundry room/kitchen
Bottom row on the left Boråstapeter B 19705 is in our room Svedja
Bottom row in the middle Boråstapeter B 19706 in the hall and outside the toilet
Bottom right – the panel in a specially ordered colour – that goes through all rooms