What is a "fit cyclist"?
We have chosen to divide our packages into two different lengths on day stages, where we count about 3mil per day for what we call the "everyday cyclist", and about 6mil for the more fit.
We are aware that many bikes are significantly more than 6 000 km per day, but those who cycle longer stages usually tailor their own journeys.
Usually it is the housing issue that controls whether a day's leg gets a little longer or a little shorter, because we are picky when we are looking for accommodation. Only the best is good enough for our cyclists, and on some routes it is relatively far between the different accommodation options.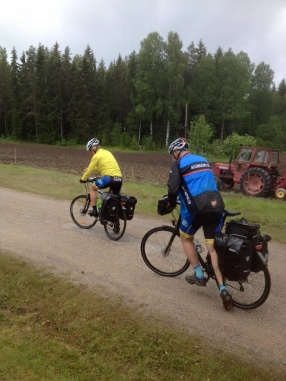 Freedom of choice – what suits you and your company best?
We have comfortable three-speed bikes that are included in all our basic packages. The packages include all accommodation available at the end of the tour and the meals mentioned. Of course, there is also a review of the tour, before departure, and we provide tips on excursions, eateries and other things that can facilitate the tour.
Where transport starts to and from the starting point, it is done with our comfortable Dacia Duster.
Of course you can choose to bring your own bike, but then we prefer that you also take your own car to the starting point.
Dellen Lakes
The package offers 3 nights and 3 cycling days, a total of about 180 km.
In this package you will travel through the genuine Hälsingland and around the beautiful Dellen Lakes.
All prices below are per person, and assume that there are 2 or more booking together (accommodation is two and two).
If you want single rooms, it is possible to arrange, for a surcharge.
3 day bike tour with 3 nights
Arrival at Enångers Bed and Breakfast. Overnight. Possibility to "test cycle" down to Borka Brygga and have a good dinner.
Cykedag 1
Breakfast with the host couple and review of the entire bike tour.
Cycle days 2 and 3
Bike tour according to the scheduled route with two nights longest tour. On the third day of cycling you return to Enångers Bed and Breakfast and the return journey awaits.
Of course, it is possible to buy for another night's overnight stay if desired.
Price: 1995:-/person
If you choose the same package, but with your own bike, the price will be
Price: 1695:-/person